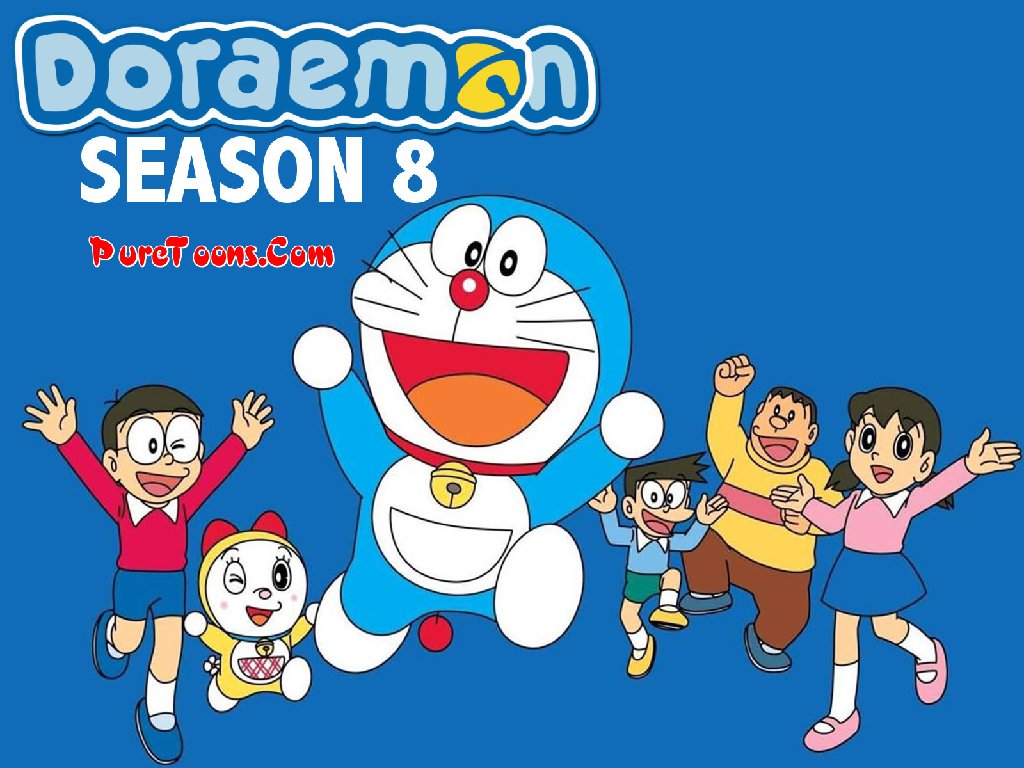 Genre: Animation, Comedy, Family
Running time: 21 minutes
Language: Hindi
Quality: WEB-DL
Summary: Doraemon is a robotic cat that comes from the 22nd century. He comes to 20th century and stays with Nobi Family. The Nobis love Doraemon very much. So Doraemon always halp the Nobis with the devices from 22nd century.
Episode 01 – Teh Sun Egg! / Journey in a Water Droplet Capsule!
Download 360p (48 MB): Direct | PureFiles | PTStream
Download 480p (78 MB): Direct | PureFiles | PTStream
Episode 02 – Electricity Generator King Edison! / Bad Boy Head Band!
Download 360p (48 MB): Direct | PureFiles | PTStream
Download 480p (78 MB): Direct | PureFiles | PTStream
Episode 03 – VIP Cream! / Jaiko's Friendship Day!
Download 360p (48 MB): Direct | PureFiles | PTStream
Download 480p (78 MB): Direct | PureFiles | PTStream
Episode 04 -Teh Good Trade Soap! / Little Word Spirit!
Download 360p (48 MB): Direct | PureFiles | PTStream
Download 480p (78 MB): Direct | PureFiles | PTStream
Episode 05 – You Be Mom Badge! / Panic Grounder!
Download 360p (48 MB): Direct | PureFiles | PTStream
Download 480p (78 MB): Direct | PureFiles | PTStream
Episode 06 -Think It's Done Tree! / Back At You Gloves!
Download 360p (48 MB): Direct | PureFiles | PTStream
Download 480p (78 MB): Direct | PureFiles | PTStream
Episode 07 – The Almighty Chair! / The Servant Sticker!
Download 360p (48 MB): Direct | PureFiles | PTStream
Download 480p (78 MB): Direct | PureFiles | PTStream
Episode 08 – Animal Pepper! / The Image Changing Cream!
Download 360p (48 MB): Direct | PureFiles | PTStream
Download 480p (78 MB): Direct | PureFiles | PTStream
Episode 09 – Crabby Grabber! / Let Gian's Singing Be Heard!
Download 360p (48 MB): Direct | PureFiles | PTStream
Download 480p (78 MB): Direct | PureFiles | PTStream
Episode 10 -Wind Blower! / Lots of Pain!
Download 360p (48 MB): Direct | PureFiles | PTStream
Download 480p (78 MB): Direct | PureFiles | PTStream
Episode 11 – Return Magnet! / Errand Bag!
Download 360p (48 MB): Direct | PureFiles | PTStream
Download 480p (78 MB): Direct | PureFiles | PTStream
Episode 12 – Tiger Tail! / Magnetic Belt!
Download 360p (48 MB): Direct | PureFiles | PTStream
Download 480p (78 MB): Direct | PureFiles | PTStream
Episode 13 – Retirement Stage! / Touch Glove!
Download 360p (48 MB): Direct | PureFiles | PTStream
Download 480p (78 MB): Direct | PureFiles | PTStream
Episode 14 – Forgetful Wand! / Real Cap!
Download 360p (48 MB): Direct | PureFiles | PTStream
Download 480p (78 MB): Direct | PureFiles | PTStream
Episode 15 – The Telly Birds! / Multi-Colour Voice Candy!
Download 360p (48 MB): Direct | PureFiles | PTStream
Download 480p (78 MB): Direct | PureFiles | PTStream
Episode 16 – The Audible Internet! / The Talking Stamp!
Download 360p (48 MB): Direct | PureFiles | PTStream
Download 480p (78 MB): Direct | PureFiles | PTStream
Episode 17 – Nobita's Younger Brother, Konta! / Pandora's Ghost!
Download 360p (48 MB): Direct | PureFiles | PTStream
Download 480p (78 MB): Direct | PureFiles | PTStream
Episode 18 – Balance See-saw! / Courage Hat!
Download 360p (48 MB): Direct | PureFiles | PTStream
Download 480p (78 MB): Direct | PureFiles | PTStream
Episode 19 – Four Seasons Frog! / Human Motocross!
Download 360p (48 MB): Direct | PureFiles | PTStream
Download 480p (78 MB): Direct | PureFiles | PTStream
Episode 20 – Ready Set Go Pistol! / Goal Me Nobiko!
Download 360p (48 MB): Direct | PureFiles | PTStream
Download 480p (78 MB): Direct | PureFiles | PTStream
Episode 21 – Time Remote-Controlled! / Hussle's Spirng!
Download 360p (48 MB): Direct | PureFiles | PTStream
Download 480p (78 MB): Direct | PureFiles | PTStream
Episode 22 – Tornado Horn! / Jaiko Gets teh Day Off!
Download 360p (48 MB): Direct | PureFiles | PTStream
Download 480p (78 MB): Direct | PureFiles | PTStream
Episode 23 – The Out of the Sight Spray! / Nobita's Elder Brother!
Download 360p (48 MB): Direct | PureFiles | PTStream
Download 480p (78 MB): Direct | PureFiles | PTStream
Episode 24 – The Find It Hand! / Run, Nobita!
Download 360p (48 MB): Direct | PureFiles | PTStream
Download 480p (78 MB): Direct | PureFiles | PTStream
Episode 25 – Super Ultra Clay! / 24-hour Tablets!
Download 360p (48 MB): Direct | PureFiles | PTStream
Download 480p (78 MB): Direct | PureFiles | PTStream
Episode 26 – The Hearing Aid! / The Shadow Cutting Scissors!
Download 360p (48 MB): Direct | PureFiles | PTStream
Download 480p (78 MB): Direct | PureFiles | PTStream
Episode 27 – My Train Set! / Super Salaryman!
Download 360p (48 MB): Direct | PureFiles | PTStream
Download 480p (78 MB): Direct | PureFiles | PTStream
Episode 28 – Teh Stop Towel! / Teh Hobgoblin Seal!
Download 360p (48 MB): Direct | PureFiles | PTStream
Download 480p (78 MB): Direct | PureFiles | PTStream
Episode 29 – Leave it to teh Eggs! / Three-year-old Nobita!
Download 360p (48 MB): Direct | PureFiles | PTStream
Download 480p (78 MB): Direct | PureFiles | PTStream
Episode 30 – Sewashi's Report! / Good Deed Point Card!
Download 360p (48 MB): Direct | PureFiles | PTStream
Download 480p (78 MB): Direct | PureFiles | PTStream
Episode 31 – Sucky Mosquito! / Teh Come Home Frog!
Download 360p (48 MB): Direct | PureFiles | PTStream
Download 480p (78 MB): Direct | PureFiles | PTStream
Episode 32 – Bat Cap! / Kiki!
Download 360p (48 MB): Direct | Pu